Integrating your Pinterest account to your WordPress site or blog is a good opportunity to enhance your online presence. With so many plugins out there, we have researched and listed out the top 7 Pinterest plugins which are worth downloading and help you in increasing your online reach.
Here comes our list:
This plugin adds a simple Pinterest "Pin It" button to your posts in just two minutes. It is easy to use and allows to visitors to start pinning your content. The basic version of this plugin is free and the premium version is also available that comes with more advanced features such as option to pin featured images, show or hide on custom post types, upload your own custom "Pin It" buttons and more.
This widget enables you to display thumbnails and titles to the latest Pinterest pins from a user via their Pinterest RSS feed. You can choose to show the description below the image, and can set the height and width of the thumbnails to fit your theme. You also have the option of showing different sizes of "Follow Me On Pinterest" button.

This free plugin adds a "Pin It" button over your images, thus allowing your users to add it to Pinterest easily. With this useful plugin, your users will only hover the mouse over the image which they want to pin. It is simple to use and easy to setup.
A simple widget for the Pinterest addicts, this plugin is easy to use. It beautifully displays thumbnails of your latest Pinterest pins on your website. The plugin aims to have the same look and feel as the pinboards on Pinterest. The pins are cached every 15 minutes.
This is an awesome plugin to show off images, captions, and links from your latest Pinterest activity. It allows you to display thumbnails and links to latest Pins in your sidebar. It is a fully customizable widget and you can pull the latest pins from any Pinterest user or display only pins from specific boards and lot many options.
This beautiful plugin adds a Pinterest badge with the purpose to link your blog to your Pinterest profile. It is a fully customizable Pinterest badge plugin. It adds a widget to your blog displaying a list of your latest pinned images and also displays the number of people who have followed you in Pinterest along with the follow button.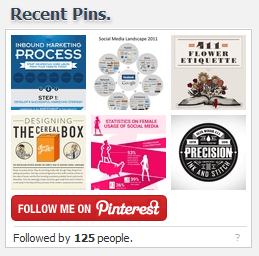 It is a stylish and compact plugin and is great for displaying Pinterest images in a sidebar, post, or page. The photos can be linked to your Pinterest page, a specific URL, or to a Lightbox slideshow. The shortcode generator makes it easy to insert the widget into posts.

The Final Words
Many social sharing plugins have a Pinterest component to them, but we have focused on those plugins that are solely for Pinterest. Our list included Pin It button, gallery widgets, follow me badges and more.
Do you use some other Pinterest WordPress plugin? Share your experience in using that plugin in the comment section below! We would love to hear that.
See Also: Best Chat Plugins for WordPress