We are in 2014 and there's no reason to spell out why any website shouldn't have a mobile website. People are using their mobile devices to search and shop at an increasing rate and this rate is expected to rise immensely. Mobile website is a must-have to survive in today's competitive era. So, the point here is to get desired traffic on your website and high ranking on search results. To build a pleasant mobile experience for your users, it's vital to have the fundamentals figured out, and more importantly, penalties from Google.




So, let's have a look on the important considerations that will help you dominate the mobile world.

1. A Speedy Mobile-Friendly Site
Having a fast and responsive mobile-friendly website is the foremost requirement. When it comes to mobile website solutions, there are plenty of choices and it is vital to choose the solution that adheres to the best practices. You can test your site on Responsinator to see how it shows up on mobile and tablet devices. Below image shows the mobile version of Wikipedia.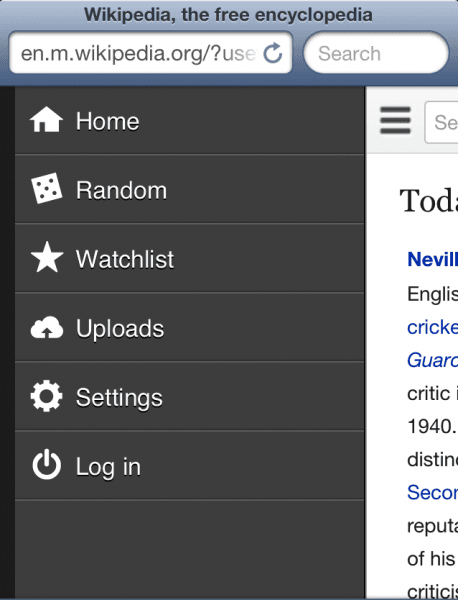 2. Design And Usability Of A Site
Avoid layouts that do not have clear objectives or path. Usability should be at the top priority when deciding on the design. The information should be displayed in an intuitive format so that it can be easily accessed on mobiles with smaller screens. Avoid any unnecessary elements and provide mobile users with a stellar shopping experience.

3. Quick Load Times
Page load times play a substantial role in engaging visitors and converting them into customers. Google loves pages that load quickly and keep users engaged to offer great mobile user experience. Page load speed is crucial to creating positive brand awareness.

4. User Interface
Website for mobile is completely different from desktop website, so you need to use less text boxes as compared to the desktop website. Makes sure that you don't use popup and also, avoid opening navigation in new windows as mobile has a less space to show them.

5. Correct Colors And Right Font
Mobile optimized site must have all the content in the right place and should be viewable. There are many times when the font is smaller which you can move away visitors from your mobile site. So, the content and other pictures should have the right colors and font.

6. A Sophisticated And Clean Design
A site's design can have a profound impact on its ability to convert visitors into customers, especially for the mobile users. By providing content in an easily digestible format, you can make huge difference when it comes to engaging users.

7. Understand Your Target Market
A success strategy cannot be complete without understanding the needs and wants of your intended audience. Well, it's vital to figure out here that the wants of mobile users are often different than that of desktop users. Smartphone users often search for local information and if you have business across multiple locations, make sure that you are making physical addresses and contact information readily available to mobile searches.

The Bottom Line
Mobile-based websites and mobile applications take user engagement for businesses to a next level. For a business, "going mobile" is not an option; it's a necessity to survive. Consumers use multiple devices to search for the desired products and services and thus mobile-friendly website provides an excellent user experience.