Soon after releasing call-only campaigns for AdWords users, Google has now revealed an Android app called AdWords for Android. This new app allows you to manage your ad campaign performance on the go.
Google AdWords is finally getting a mobile app to allow you to monitor your ad campaign. With this app, you can view campaign stats, get real-time alerts and notifications and update bids and budgets. The app will also provide you suggestions to improve your campaigns. It has been designed with the purpose to simplify viewing your ad performance.
Existing AdWords users can link their multiple accounts with the app and toggle between them. When you will open the app, a dashboard appears providing you an overview of clicks, costs, and conversions. One can also view metrics by day of week, ad group, and device. You will see real-time customized suggestions and can act upon immediately.
With AdWords app, you will be able to:
get real-time alerts
view campaigns stats
suggestions to improve ad campaigns
update bids
As users get real-time information, they can take action in their AdWords accounts to take that opportunity to be better and more efficient in managing their ad campaigns.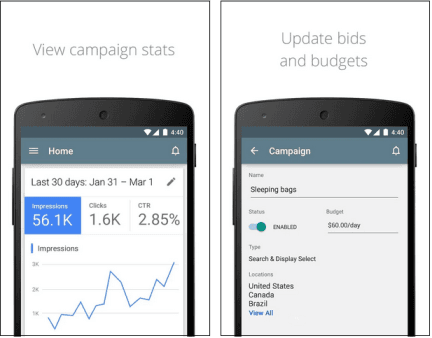 Pros:
User-friendly interface
Customization features
Easy to use
Manage ad campaigns effortlessly
Cons:
No information about video campaigns
Can't create new account from the app
Doesn't allow for access to billing and user details
Some Useful Insights about AdWords App:
Cost: Free
Requires Android: 4.0.3 and up
Size: 15M
Provider: Google Inc.
Ratings: 4.4 out of 5 stars
Download AdWords App
An iOS version of the app is soon expected to come, though no timing has been announced.
Do you like the new AdWords app? Have you downloaded it? Let us know in the comments!