Businesses are increasingly turning to cloud for software solutions. Cloud-based project management tools help employees to be more productive as they can access work information wherever they are. Cloud-based solutions are typically priced affordably which make them more popular with companies struggling with budget constraints. Also, cloud-based project management tools go a long way towards improving relations with customers.
Here are the top cloud-based project management tools:
1) Citrix Podio
Citrix Podio offers a new and effective way for your team to communicate, track and get the work done. This project management tool comes with features such as meeting scheduling, ability to track leads, keep an entire team informed and lots more. Also, it is available for free up to five employees and pricing beyond that starts at $15 per employee per month.


2) ProWorkFlow
ProWorkFlow provides a flexible solution to small, medium and large businesses for managing their projects. Among popular cloud-based project management tools, it helps you keep accurate timesheets, project schedules and delegate project tasks.
Pricing:
Solo: $10/m (one user only)
Professional: $20 p/m per staff user
Advanced: $30 p/m per staff user


3) Basecamp
Basecamp is one of the most popular cloud-based project management tools. Some of its incredible features include easy-to-use, reliable, best customer services and more. Basecamp is increasingly being used by freelancers, small shops to mid-sized companies and enormous multinationals.
Cost: free for 60 days
Milestone Planner is an efficient project management tool that allows you to create plans, track progress and get results right from your browser. It is being used by thousands of individuals and teams owing to its powerful simplicity. The visual interface is completely intuitive and it is easy to create clear timelines with this useful tool.
Cost: standard edition free
Professional edition: $9.00/mo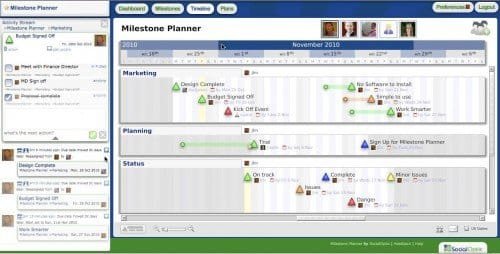 5) Zoho
Zoho is one of the most comprehensive cloud-based project management tools. The tool takes care of everything ranging from getting more sales, supporting your customers and making your business more productive. Some of its impressive features include built-in Wiki and chat option, meeting scheduler and more.
Cost: $12 a month per user


6) Planbox
Planbox is an agile management tool that all teams can share effortlessly. Among leading cloud-based project management tools, it is a good fit for anyone who wants to track the cost benefit of an effort. It allows members to plan, collaborate and deliver projects. It introduces four levels of project management: Initiatives, Projects, Items and tasks.
Cost: free for 2 collaborators
For more than 2 collaborators: the price ranges from $19/mo to $199/mo


7) GoSuite
GoSuite is an efficient cloud-based project management tool that has two components: GoBook and GoPromote. GoBook provides businesses with an online appointment book and the ability to offer online, mobile and Facebook booking to customers. GoPromote helps businesses to develop their own specials and deals and promote them through social media channels like Facebook, Twitter and FourSquare.


Conclusion
Cloud-based project management tools offer you advantages of breaking down complex projects into manageable tasks. These tools help users in getting a better understanding of the projects and their timely completion. They also help to establish inter-connectivity between tasks by showing which objectives are interdependent.
We hope that you like our compilation of best cloud-based project management tools. You can choose among them depending on your needs and special requirements.
Which cloud-based project management tools do you use for your business? Share your views with us in the comments below.